New funding helps city provide services to Afghan immigrants
New funding helps city provide services to Afghan immigrants
Published:

March 17, 2022

Category:

General

Contact:

Leyda M Becker - 270-393-3766

Location:

Bowling Green, KY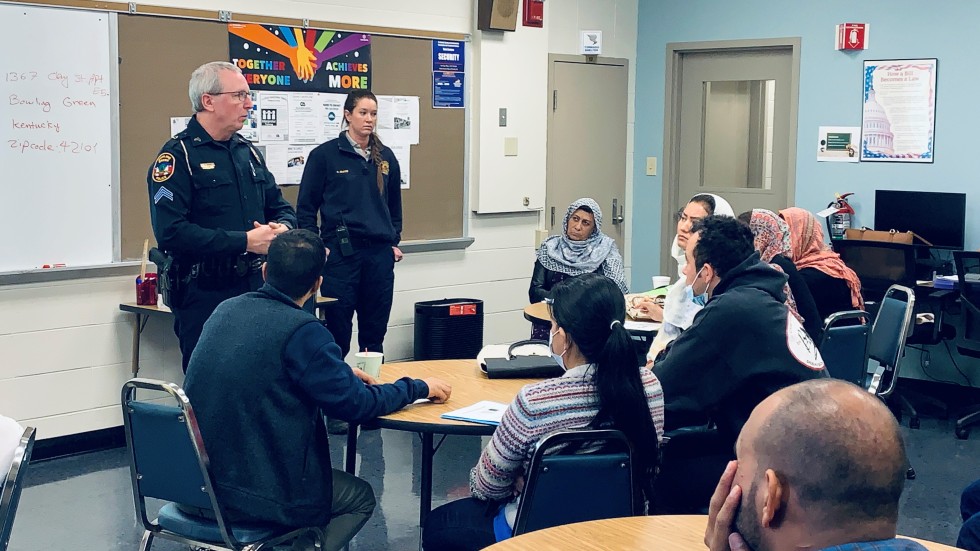 The City of Bowling Green will receive a new grant of $150,000 from the Open Society Foundations to support the City's efforts to meet the needs of new Afghan residents here.
BOWLING GREEN, Ky. - Bowling Green recently welcomed more than 350 Afghan refugees to the community and the City received a grant to help the new residents acclimate.
"While Bowling Green has resettled refugees for over four decades, the City of Bowling Green does not receive federal funding to assist in the integration of newcomers to our community, Bowling Green International Communities Liaison Leyda Becker said. "This grant funding will bolster our ongoing inclusion and integration efforts geared towards our newest neighbors."
There are currently an estimated 65,000 Afghan new arrivals who will resettle in host communities across the country in the coming months, with Bowling Green receiving more than 350 Afghans as of early March 2022. The funds, supplied by the Open Society Foundations, are meant to augment limited federal resources to help those communities that are particularly invested in welcoming Afghans.
"Local government leaders are playing a critical role in welcoming Afghans and helping them to settle into new communities," said Laleh Ispahani, Co-Director, Open Society-U.S. "We are proud to stand shoulder to shoulder with them in welcoming these newcomers. In making this grant and others like it we recognize that partnerships between local government and community groups are essential in building inclusive communities, and contributing to a growing welcoming movement across the country."
The City of Bowling Green will also be joining a group with other government leaders to share best practices. The group will be facilitated by Welcoming America, which works to support communities building a welcoming society where every person, including immigrants, can fully contribute and shape our shared prosperity. The American Immigration Council, which works to create a more fair and just immigration system, will partner on this effort.
"This grant recognizes the longstanding efforts of Bowling Green/Warren County to create a welcoming community for all, work that we know will be vital to not only supporting new Afghan neighbors but to strengthening our collective response to the displacement of people across the globe, and our ability to ensure that everyone can belong and thrive in the place we call home, no matter where we come from," said Rachel Peric, Executive Director, Welcoming America.
"State and local leaders are stepping up to welcome Afghan arrivals and ensure that our new neighbors are fully integrated into communities across the country," said Rich André, Senior Policy Advisor for State and Local Initiatives at the American Immigration Council. "These funds will address Afghans' immediate needs — ranging from housing and transportation to legal services — while also helping communities invest in inclusive policies and partnerships that will benefit all newcomers."
Grant funds were accepted at the March 17, 2022 Board of Commissioners meeting. Part of the funds will be used to hire a 12-month position of Afghan Community Navigator, an intensive support specialist role to connect Afghan newcomers to municipal services and other community resources. The rest of the funding will go to support English language and driver's license education, in addition to connecting Afghans to local labor force opportunities. For more information contact Leyda Becker, International Communities Liaison at (270) 393-3766 or leyda.becker@bgky.org
More Background on the Open Society Foundations
Founded by George Soros, the Open Society Foundations are a large private funder of independent groups working for justice, democratic governance, and human rights. Part of the organization's focus includes efforts to improve protections for refugees and vulnerable migrants, to stop the exploitation of migrant workers, and to build stronger ties between host communities and newcomers.